Neopian Pharmacy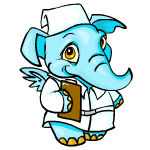 If your pet gets sick eating some bad food, or through an unfortunate turn of one of the wheels in the game area, then you'll probably be visiting this store for some medicine. Everything you see on sale here can cure some disease or another, but only a few of the items here are truly in demand and profitable.
Here are the items I would be looking for, and the profit margin you can see as a minimum if you sell them. While there is a heavy demand for items like the herbal scrambled eggs, the good news is that most of the time, a lot go on sale (and will sell out in seconds), so if your timing is right, you stand a good chance of grabbing one or more of the high-demand items. And on the occasions that Neopets is having a fire sale, really everything in the store is worth buying (but only when there is a major sale going on; otherwise just stick to the items below).
One thing to keep in mind while visiting the store is that there are about 20 items that almost always are on sale that really aren't anything special. So it's tough sometimes to spot when the store has been repopulated. You may need to visit a few times over a small stretch of time to notice if the store has suddenly increased from say 15 to 17 items to figure out it's time to buy, buy, buy.
GRAB RIGHT AWAY (if you can!)
Extra Thick Goggles — Fairly tough to get but they will have a few on sale when you do see them. They're a little expensive (almost 5000 NP) but will easily sell for a good profit. They help with blurred vision.
Grumble Be Gone Tablets —
Herbal Scrambled Eggs — On the rare occasions you see them on sale, it's not uncommon to see 30-40 for sale at once. They're inexpensive (300-400 NP) but will easily sell at 5700 NP and upwards. This is to ward off Chickaroo - I'm not sure how you get this, but apparently a LOT of neopets are in danger of turning into chickens and this is one of the highest-demand items you can find on Neopets.
Honey Blossom Extract — On sale for about 3500 NP, they'll go for upwards of 12,500 or more. But it's pretty tough to see them on sale and even tougher to buy. It prevents fuzzy fungus which can turn your neopets fur purple.
Hootchie Cootchie Tablets — You'll make at least 300 NP on each one of these. I usually get them at 775 NP and sell them for 1075. As you might expect, they're to ward off the Hootchie Coochies.
Magic Goop — This one is tough to find and get, but it's worth if you luck out. It costs about 10,000 NP but will sell easily for 70,000 NP and up. It's used to ward off an achy head.
Medicinal Soap — Another item that on rare occasions is easy to pick up. You'll be able to sell them easily for a quick 14,000 NP and a huge profit (they cost about 5000 NP each but are worth it). Used to ward off neomonia.
Mushroom Ointment — A pretty rare item you'll be lucky to find and buy. But it's very profitable. I bought one for 4800 NP and quickly sold it for 47,000. If your pet has the Doldrums, then they'll need this rare and expensive ointment.
Neck Brace — Costs about 6200 and sells for at least 47,000 NP.
Spyder Juice Elixir — Another rare item that can easily sell for 43,000 neopoints and upwards if you're lucky enough to get (it costs about 5K-it cures bad spider bites).
Tongue Shrinker — You can get this for 1400-1700 NP and sell it for double that at around 3500 NP at a minimum. This cures floppy tongue.
Useful Links
Neopets Shop Wizard — all prices quoted here are based on selling the item at a cost slightly below the lowest based Shop Wizard price on an average of 2-3 searches.
Neopets Hospital — a list of all the illnesses/diseases your pet can contract, and the medicine they need to overcome the infliction.
Neoitems.net — great site with searchable database on all Neopets items.
All Neopets.com related names, characters, logos and indicia
© 1999-2008 Neopets, Inc. All Rights Reserved. Used with permission.
page revision: 24, last edited: 26 Jun 2008 01:32