Neopian Fresh Foods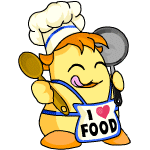 Neopets' largest and most popular store. The store also refreshes with items more quickly than any other store so while you can't always pick up a profitable item, it's not hard at all to find something to feed your hungry pet. The key, as far as this site goes, is to find items you can purchase and quickly sell in your store for a profit. And in that regard, this is a pretty good store to frequent.
Because there are well more than a thousand food items in this store alone, we're breaking this store up into several sections. Right away, we'll concentrate on some food groups which are easy to obtain but can make a profit, albeit small at times.
Round Swirly Rolls (seven various pastry-type rolls that are sold frequently at the store; all can be obtained with some ease, even the two rare ones. The profit margin for the first five is minimal but if you aren't trying to gouge your customers, you'll sell them pretty quickly since they're a common quest item and will make 100-400 NP on average per sale).
Banana Roll (sell at 650 NP)
Guava Roll (745 NP)
Orange Roll (800 NP)
Blueberry Roll (895 NP)
Grape Roll (899 NP)
Fruit Punch Roll (more uncommon, grab whenever you can and sell for min. 5875)
Watermelon Roll (rarest roll, sell for min. 11,000 NP)
(RETIRED) Chocolate Roll (not sold anymore and can only be purchased via shop wizard or trade - not really for profit item anymore but R180 index)
Milkshakes (14 milkshakes that are sold at the store; most can be obtained with some ease, but only the rare ones will generate any significant profit. A couple of rare ones are real duds and not worth it - they sound disgusting to drink as well. The first six listed below generate a quick 100-200 NP and a few a bit more than that. All look pretty much the same — they're in a small cup with a red straw).
Banana Milkshake (sell at 225 NP)
Strawberry Milkshake (245 NP)
Raspberry Milkshake (245 NP)
Vanilla Milkshake (275 NP)
Chocolate Milkshake (295 NP)
Cherry Milkshake (395 NP)
Kiwi Milkshake (400 NP) (this one is a dud as it costs more than 2000 NP to buy — AVOID!!)
Butterscotch Milkshake (745 NP)
Marshmallow Milkshake (745 NP)
Coffee Milkshake (975 NP)
Black Currant Milkshake (995 NP - another dud since it costs twice this amount to buy — AVOID)
??Kacheek Milkshake (1015 NP)??
Peach Milkshake (1200 NP)
RARE BUT DUDS (These are found in the Gross Foods Store but look similar with the same cup and straw — AVOID as they're worthless!!!)
Chocolate Fish Pop Milkshake
Lime Milkshake
Strawberry and Cheese Milkshake
Useful Links
Neopets Shop Wizard — all prices quoted here are based on selling the item at a cost slightly below the lowest based Shop Wizard price on an average of 2-3 searches.
Neoitems.net — great site with searchable database on all Neopets items.
All Neopets.com related names, characters, logos and indicia
© 1999-2008 Neopets, Inc. All Rights Reserved. Used with permission.
page revision: 16, last edited: 24 Feb 2008 03:32