Collectable Coins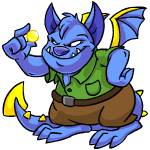 This isn't a store you should be visiting often, but if you're just wandering from store to store waiting for a re-stocking, it's worth a shot to visit old store #68. This store, and the sea shell store (#86) are pretty much the same. They're not stocked very often at all, and even when they are, it's just a few items at most.
But if you do stumble across a sale, grab anything you can. These items are all very rare and either are coins you'll add to your collection or sell for a pretty penny in your store.
Useful Links
Neopets Shop Wizard — all prices quoted here are based on selling the item at a cost slightly below the lowest based Shop Wizard price on an average of 2-3 searches.
Nothing But Neopets — Complete list of all coins along with pictures of what they look like.
Neoitems.net — great site with searchable database on all Neopets items.
All Neopets.com related names, characters, logos and indicia
© 1999-2008 Neopets, Inc. All Rights Reserved. Used with permission.
page revision: 4, last edited: 27 Jan 2008 22:01