Brightvale Scrollery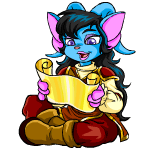 I'll be honest with you, I'm not much into Battledome. So to me, most of the Battledome shops are pretty much a waste of time. So this is a store I don't see much use for at all.
Perhaps if you're a Battledome fanatic, then one or more of these 21 scrolls might be useful. But I don't see much of a demand for any of the items on sale here. Perhaps there are two exceptions — the greater healing scroll (which can sell for 57,000 NP and upwards) and the scroll of freezing (which can go close to 99,000 NP or even be sold via the auction route). But to be honest, I'm not even sure how much they go on sale for in this store. There is a good chance that even those two scrolls cost more neopoints to buy than you could see in a sale.
I know for a fact that most of the items here can't be sold for a profit, so unless you like them for battling purposes, this store can be avoided altogether.
Useful Links
Neopets Shop Wizard — all prices quoted here are based on selling the item at a cost slightly below the lowest based Shop Wizard price on an average of 2-3 searches.
Neoitems.net — great site with searchable database on all Neopets items.
All Neopets.com related names, characters, logos and indicia
© 1999-2008 Neopets, Inc. All Rights Reserved. Used with permission.
page revision: 0, last edited: 14 Feb 2008 18:29